Maritime Heritage
Three sons of William Ayres Barcham were mariners: Clarence (1830-1856), Henry (1833-1911) and Sidney (1836-1882). Clarence Barcham, who probably sailed with his uncle Robert Barcham in the Salamander, died in Formosa [Taiwan], allegedly poisioned by a Chinese cook.
Henry Barcham went to the Bluecoat School where he was awarded a silver medal for his book on navigation Elements of Navigation which is now in the archives of the State Library of Victoria, Melbourne, Australia. His line drawings include one of the West, a barque of 366 tons, on which he made several voyages to Batavia. Henry later served a first mate on the Nestor, a barque of 378 tons, which sunk in Portland Bay and was later found to have been scuttled. See memorabilia.
Sidney Barcham settled in Dunedin, New Zealand, after a career at sea. He died at sea while on board the SS Te Anau on a voyage from Port Chalmers [Dunedin] to Bluff Harbour [Invercargill].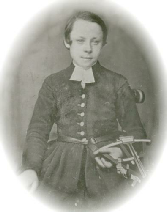 Sidney's namesake and nephew Captain Sidney Barcham (1855-1934), the eldest son of William Edwards Barcham of London, received his master's certificate in 1885. He was an officer on a number of P&O ships and took command of the SS Arcadia in 1909. Captain Sidney was master of the SS Arcadia until 1915 when it was broken up. The name has been conferred on subsequent P&O ships, the most recent being the cruise ship Arcadia, 85,000 tons, which sailed on her maiden voyage in April 2005.
Sidney's younger brother, Captain Herbert Clarence Barcham (1863-1939), was awarded his master's certificate in 1885. He had many commands in his career during which he made voyages to the Far East, and Australia. During World War I Herbert commanded the SS Dorrington Court.
This seafaring tradition continued through subsequent generations to World War II when Barcham descendants served in the Royal Navy.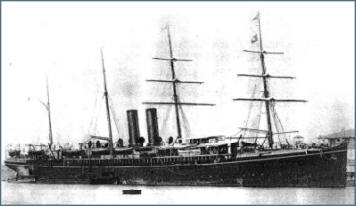 SS Arcadia, 6600 grt, commanded by Captain Sidney Barcham