John Barcham
John is a descendant of Henry Barcham and Jane Richards who arrived in Portland, Victoria, Australia in October 1854 aboard the immigrant ship Nestor.
Along with sister Jenny and brother Richard, John is the son of Roy (1921–2006) and Hazel Barcham (1923–1989). Roy was an Australian Trade Commissioner and John grew up living in New York, Beirut, Lebanon, Nairobi, Kenya, and Hong Kong.
In early adult life John worked as a Jackaroo [farm hand] on large sheep stations in outback western New South Wales before marrying and moving to Melbourne where he developed a successful career in sales and marketing with international companies. In 1992 John obtained a degree in Arts and Entertainment Management. He subsequently went on to work in film, theatre and interpretative design and implementation for the museum and zoo sector.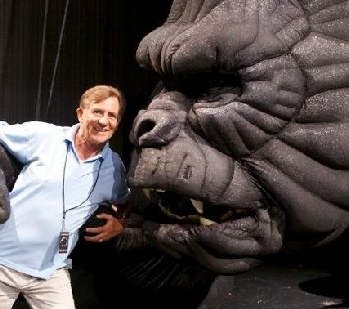 In 2009 John was appointed as General Manger of the Creature Technology Company, makers of the globally successful arena show 'Walking with Dinosaurs' based on the BBC television series. Amongst many international awards The Creature Technology Company was awarded a Special Tony Award on Broadway for the giant puppet that was created for 'King Kong on Stage'.
In 2015 John established Barcham Projects, a specialist design and fabrication consultancy when he undertook a range of consultancies including art directing a major new aquarium in Jakarta, Indonesia.
Along with a busy working life John has been a passionate fine artist for many years. For six years running he has been a finalist in Australia's principal maritime art prize and in 2019 received a 'Highly Commended' award for his painting In the Blood. John is now semi-retired and is able to pursue his long-held dream of painting full time. View (and maybe buy) some of John's artworks on bluethumb.
John with his creation of King Kong
John has been married to Rosa Cursio–Barcham for the last 15 years and his son Benjamin Roy Barcham is married to Tracey. They have two sons Jed and Toby (see photo)